Learn Kubernetes weekly — issue 32
21 Jun 2023
Articles
Articles worth checking out:
Change tracking: diffs for your Kubernetes cluster
Robusta.dev
Did something change that you weren't aware of?
Rewind the clock.
Spot changes that occurred in your cluster right before an incident started.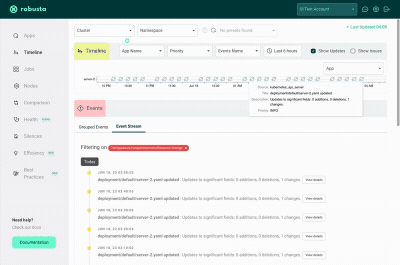 Tutorials
More tutorials:
Kubernetes jobs
Platform Engineer with Fresha

Salary: £80K to £110K a year

Location: based in the office (and remote from home) in London (Remote-Hybrid)

Tech stack: Kubernetes, AWS, Python, Ruby, Terraform

DevSecOps Engineer with Lockheed Martin

Salary: $105K to $227.4K a year

Location: remote from the United States

Tech stack: Kubernetes, AWS, Shell, Python, Cloudformation, Gitlab, Jenkins
Discover more Kubernetes jobs on Kube Careers →
Code & tools
Other interesting projects:
Upcoming Kubernetes events
Discover more Kubernetes events on Kube Events →
Kubernetes Call for Papers
Until next time!
— Dan
P.S.: if you wish to get in touch with me, just hit the reply button on this email!
Subscribe and, every Wednesday, receive the latest Kubernetes news!